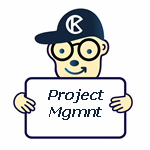 Why Small Businesses Need Project Management
Project Management can be as complicated or as simple as someone wants to make it. It is a science (often classified under the category of information technology) that is often practiced by novices, as well as professionals who specialize in the science.
What is Project Management?
PMBOK (Project Management Body of Knowledge) defines project management as "temporary endeavor designed to produce a unique product, service or result" ( >> Read Full Article <<