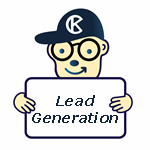 The Importance of Landing Pages for Lead Generation
We know what landing pages are, but do we remember to review them or refresh them? Possibly, the idea of creating or updating the landing page(s) has slipped to the bottom of our virtual "to do" pile. If you are not using landing pages, it is time to add the creation of one (or more) to your list of things to do.
What is a Landing Page?
The idea behind a landing page is to encourage conversions.
While conversions can (and do)
>> Read Full Article <<